April 26, 2020 - The V2 MMP shipping now will be a one piece honeycomb design available in satin black powder coat only (Brackets or Seat Jackers required). We only have a couple raw 3 piece MMPs in stock.
New for 2020, the Front Multi-Mount Panel (MMP) mounts to the front of the driver or passenger seat. The MMP allows for quick access to frequently used tools or emergency equipment such as Flashlights, Fire Extinguishers, Handguns, Axes, Knives, or tool rolls. Mount items to the front, back or both sides of the MMP. 
Currently available
 in satin black powder coat finish or raw aluminium. Please note, the raw aluminium option although tumbled may have sharper edges and light machining marks.
*Please note that when installed in 4Runners and GX470s, removal or trimming of trim pieces may be required.

**With Bracket MMPs only, 2020 Tacomas with Power Seats may experience reduced forward seat movement.  Reduced seat movement only impacts the last inch or so of forward movement and only when the seat is in a lower vertical position.
Fits 2005-2020 Toyota Tacoma, 2003-2020 Toyota 4Runner, 2003-2020 Lexus GX470 and 2006-2014 Toyota FJs
Installs

 to the front of the driver or passenger seat.

Includes longer factory grade hardware (Class 10.9)
Made from 6061 Aluminum
Proudly Made In America
Hole and slot pattern designed to fit:
Installation Tools needed:
14mm Socket or Wrench
6mm Ball-End Allen Key or Socket
FREE SHIPPING ON ALL ORDERS
Customer Reviews
05/28/2020
Christopher J.
United States
Almost perfect
Going to start out by saying the quality of the MMP combined with the seat jackers is incredible. Absolutely no beef there. There only reason I dock a star is because of its proximity to the floor. I have run into several problems mounting things where if it were sitting higher by an inch or two, I would be able to mount with no issues.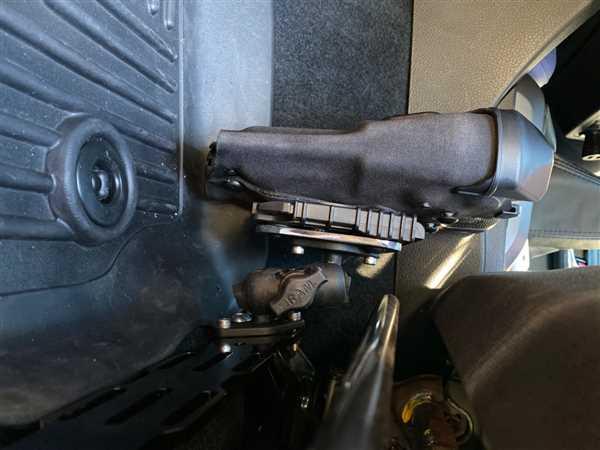 05/28/2020
Desert Does It
Thank you for the review and feedback! The primary reason we didn't raise the MMP morewmore due to those installing on manual seats, we needed to leave room for the seat adjust bar.
05/23/2020
Andrew
United States
05/15/2020
Nick S.
United States
05/09/2020
Paul V.
United States
Super light :)
It's a bit pricey but it's very handy and looks very well made. If you're an off-roader you know how important weight in your vehicle is. Well these are as light as a pair of socks so no worries there. I'll probably get a 2nd for the passenger side, just wish it wasn't so expensive
RB
05/09/2020
Rob B.
United States
Easy install and super useful
Took about 3 minutes to install the panel and blocks, and then 2 minutes to attach the file extinguisher mount, totally worth it for ease of mind if having one at the ready out of the way. Thanks for a great product!!!