New for 2020, the Front Multi-Mount Panel (MMP) is a specialized molle panel and seat riser system that mounts to the front of the driver or passenger seat. Our unique honeycomb design not only looks great but also allows you to use nylon or velco straps around the MMP. The MMP allows for quick access to frequently used tools or emergency equipment such as Flashlights, Fire Extinguishers, Handguns, Axes, Knives, or tool rolls. Mount items to the front, back or both sides of the MMP. The added Seat Jackers allow you to get comfortable while you get organized. 
*Please note that when installed in 4Runners and GX470s, removal or trimming of trim pieces may be required.
**With Bracket MMPs only, 2020 Tacomas with Power Seats may experience reduced forward seat movement.  Reduced seat movement only impacts the last inch or so of forward movement and only when the seat is in a lower vertical position.
Options:
MMP w/Seat Jackers
- Includes the Multi Mount Panel and front Seat Jackers. The MMP mounts to the front of the Seat Jackers. This option will lift the front of your seat by 1.25", see separate listing for
front Seat Jackers
 for more info. All required hardware provided.
MMP w/Brackets - Includes the Multi Mount Panel and Brackets to mount the panel to the front of your seat. This option does not impact the seat height. All required hardware provided to include longer Class 10.9 seat bolts.
MMP Only - This option is avialble to those that have previously purchased the front Seat Jackers or Brackets. You will need either the front Seat Jackers or MMP Brackets in order to use the panel. All required hardware to mount the MMP to the front Seat Jackers or Brackets is required.
MMP Brackets ONLY
- This option is for the Brackets only and does not include the Multi Mount Panel. L
onger Class 10.9 seat bolts are provided.
Fits 2005-2020 Toyota Tacoma, 2003-2020 Toyota 4Runner, 2003-2020 Lexus GX470 and 2006-2014 Toyota FJs
Installs

 to the front of the driver or passenger seat.

Includes longer factory grade (Class 10.9) and SS Button Head hardware
Made from 6061 Aluminum
Patent Pending
Proudly Made In America
Hole and slot pattern designed to fit:
Installation Tools needed:
14mm Socket or Wrench
6mm Ball-End Allen Key or Socket
FREE shipping within the US (Shipping outside the US will be calculated at checkout).
Customer Reviews
09/25/2020
Ben B.
United States
Easy to install
Product was easy to install and made both seats much more comfortable
09/19/2020
Kenneth M.
United States
Can't Believe The Difference it Made
My seats are now comfortable and my back and hips feel better after driving. I'm 6'1" 195 lbs. Easy 5 minute install. Make sure you have blue loctite On hand before you order arrives in case you want to install immediately.
MB
09/18/2020
Mark B.
United States
Great Product. Tacoma OR
I didn't necessarily need the seat jackers, I'm fine with the position of the seat, but I was curious about them. So I went all in and got the jackers plus the Molle panel to try it out. First delivery and processing was prompt. But I live in CA so LV isn't too far away. The items arrived and they have a good quality build to them. They were in perfect condition and the machining looks top notch. Install is easy, just loosen and unbolt, then install and put the bolts back to spec. Impressions. I like the raised front of the seat. I normally drive with the seat all the way back, and because this changed the angle of my legs, I had to pull forward a couple notches. So this is great for having a few extra people in the back, I'm sure they'll appreciate it. Seat position doesn't quite feel like a race seat, but it's close. It feels like I'm a little bit more ****** into the back of the seat, which is what I wanted. It's comfortable. Again I had no problems with long trips in the tacoma. So I look forward to trying it out on one. There is a good amount of clearance under the front and side of the seat. I normally keep a pair of work gloves on the side, but they got a little lost in the gap. I just placed them under the front of the seat, behind the Molle panel. The Molle panel has a good number of spots to affix things to. I placed a 6 inch knife (blade and handle are 10inches total) and a flashlight. The one thing I didn't consider is that the knife is a little long to be unsheathed with the door closed. I had to reposition it more inward and I can get it out, but it's not as easy as 123. The flashlight I just have clipped over the side. Between the knife and the flashlight, plus the gloves, I've used up all the real estate. Everything sits neatly under my legs and is accessible. All in all a good product, that has added storage and added comfort to my overall driving experience. I'm strongly considering another set for the passenger side! DDI Hook me up!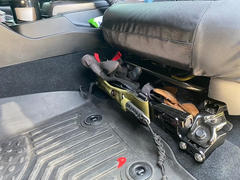 09/17/2020
James C.
United States
09/14/2020
Noel
Canada
This company is simply outstanding in every way
I was so impressed with this product (I purchased one set of both front and rear seat lockers) that, once installed and 'tested', I purchased another set for my passenger seat as well Front Molle panels for both seats. The products are exceptional and a welcome addition to my 4Runner. Throughout my interactions with 'Desert Does It' I dealt with 'Steve'. Steve epitomizes professionalism, friendliness and I firmly believe if you look up 'customer service' in any dictionary, Steve's photo would be there as the example of what that word and concept should mean. I highly recommend Desert Does it, their products, and their team. Your money will be well spent.